T@W Weekly: Mind the Gap
Pay equality, VR for soft skill training, and remote work
The Word: O Damn
Pay equality isn't an easy problem to fix. Nobody ever said it would be. While some big tech firms have taken action to expose and bridge gender-driven pay gaps, some are pushing back. One of the biggest tech companies in the world doesn't think they need to actually prove their work, though:
The biggest Silicon Valley companies have responded to complaints about unequal pay by disclosing the gaps between men and women doing similar work.

But not Oracle Corp.

The software giant's board, led by founder Larry Ellison, 75, says it's a waste of time and money because the company is already committed to equal pay for equal work.
Activist investors are pushing Oracle to do more.
It's true: Analyzing and fixing pay gaps is relatively expensive work. It's tempting to position, as Oracle is attempting here, the exercise of one of internal process and progress.
That's not good enough. It maybe never was but it certainly isn't today.
Salesforce has spent over $10 million to correct pay gaps and disparities, for both men and women. They did so publicly. Oracle has about 4x the number of employees as Salesforce, so correcting it — in private or public — is probably a somewhat expensive proposition (but also, completely doable).
But I don't buy for a second that it would be a waste of money to simply disclose gaps. It's even more ridiculous to suggest that this would be time consuming as Oracle builds and sells compensation software for a living.
Almost every Oracle employee has multiple other options for employment. And more than activist investors, Oracle can't afford to lose good people right now.
What the Click?
Remote Work Gap
This report from Zapier on remote work is a good read but this stat shared on Twitter by Justin Pot definitely sticks out.
I've worked from home for over a decade (save for a year "break") and I can't tell you how much I value working from home.
Not just because I'm an antisocial hermit, either. Remote work gives so much flexibility, which is especially helpful for parents but certainly for everyone.
Not everyone wants it, but for those who value it, there's very little replacement for it. I hope we get better at offering this benefit to everyone who wants it and is able to be accommodated for.
T@W Podcast of the Week
John Sumser has some great guests on almost every week but the weekly feature on HR Tech with Stacey Harris from Sierra Cedar is a favorite listen of mine that I keep forgetting to promote here. Lots of inside information on trends, financials, and product developments, plus a healthy dose of laughter. They do the show live, too!
And Finally… Business Travel is Not Sexy
Speaking of remote, I am heading off on what may be my final business trip of 2019 (I am trying not to jinx it). I don't fly during the holidays for personal travel so I'd like to take this opportunity to remind people that traveling for business isn't this amazing thing for 99% of travelers. The views can be nice, though.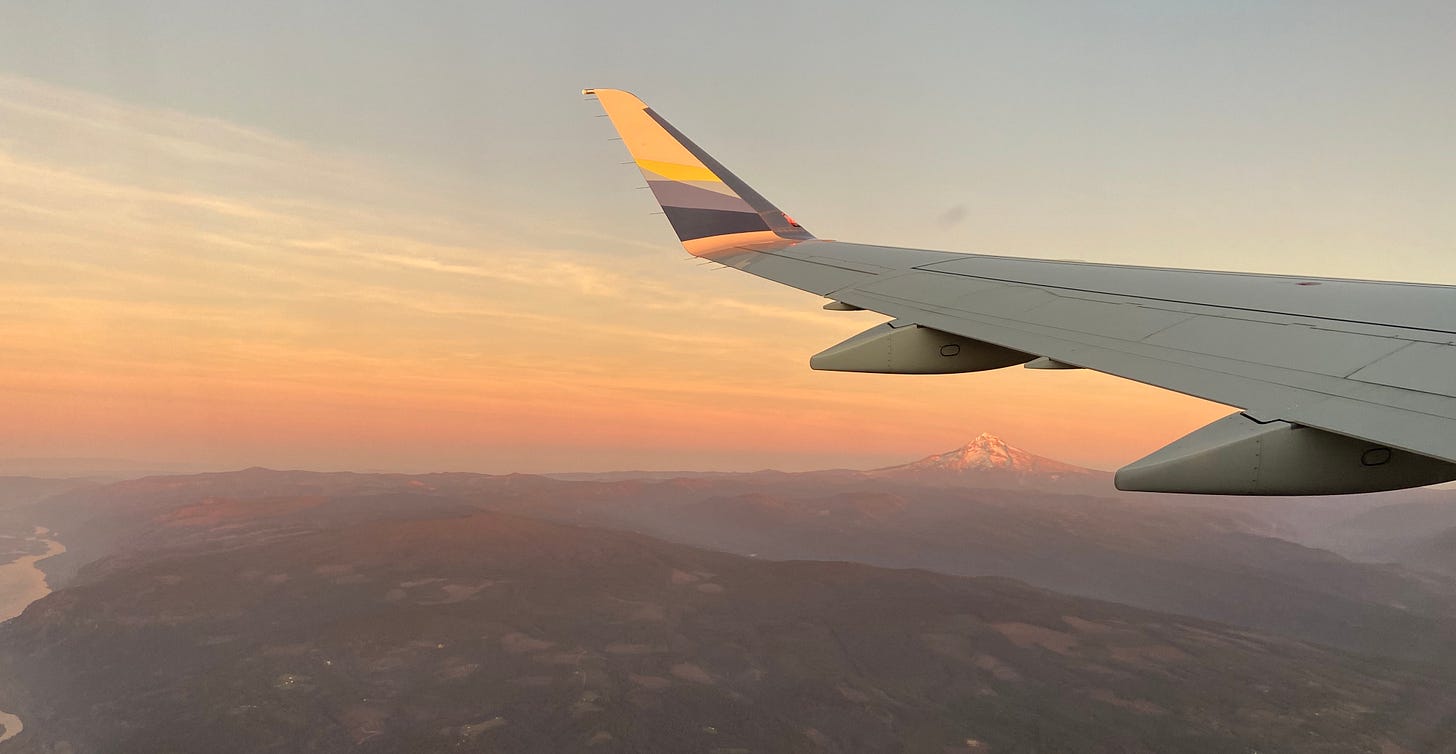 Cramped work on an airplane, bad food, inconsistent hotels, getting sick, being inconvenienced and delayed, doing red eye flights, terrifying Uber rides… these are the best worst things that can happen when you travel. When you get great food, connect with people you love, sleep on clouds, and make some dough along the way? Those stars align a few times. I'm grateful to be able to roll the dice on those adventures.
For a homebody like me, there's no place like home, though. I'm enjoying every minute at home this holiday season to get ready for a busy 2020.
Cheers, Lance